Are you ready to take full control of your website and stop paying someone else for every little change?
How do I know this? Because I've been selling themes to tens of thousands of you for over a decade and these are by far the top questions we get asked mere hours after your theme purchase:
How do I change the font on my site?
How do I increase the font size of my navigation menu?
How do I change the color of the text?
How do I add a border under my widget titles?
How do I ….
This list goes on and on!
Introducing our course
Teaching you how to Take control of your website
Having a website can be a total blessing, but for many, a total headache all at the same time.
You spend so much of your time trying to figure out how to change simple things, or you spend a fortune paying someone else to do it for you.
Hey, beautiful…
I know how hard it is to build a beautiful online business with no previous knowledge of building a website! What does all this stuff mean? And how can I do it on my own without breaking something or pulling my hair out?
When I first started my business, I remember having to start a website for the very first time and to say I was overwhelmed would be an understatement. However, I didn't have the resources to continue paying someone over and over to make my website changes for me, so I had to learn it all myself. Having taken a website class in high school, I knew the basic principles but I was essentially learning it all on my own because I had no other choice.
Fast forward over a decade and I've now built an entire business around website design and every bit of it I taught myself. With the amazing community that has been built around my WordPress themes, I typically see a lot of the same type of questions:
How do I change the font on my site?
How do I increase the font size of my navigation menu?
How do I change the color of the text?
How do I add a border under my widget titles?
How do I ….
This list goes on and on!
I'm here to empower you to take full style control of your website!
By the end of this course, you will know how to Style Anything!
See what they're saying.
Our happy customers have a lot to say about our products and services!
The Style Anything course by Lauren at Restored 316 is a phenomenal resource. I wanted to reformat several elements of my website but I had no idea how to do that or how to even start. Lauren explains, in really simple terminology, how html, css, and "coding", etc. works and supplied me with all the knowledge I need to make any and all modifications I want! Watching videos of Lauren making changes "live" was the perfect way for me to learn. I can't believe I was re-coding my own site before I'd even finished the videos. I'm very appreciative of all the knowledge Lauren shared in this course, and for the confidence it gave me. Thank you so much!
Lisa Genest
Consultant
"Finally! A CSS course that helps to "put it all together!" While Lauren steps you through individual elements (which I already understood the basics of), the tutorials that walk you through from beginning to end of creating a website from scratch and jumping into an existing theme and restyling it to your own look and feel was worth the entire cost of the course."
Bonnie Schroader
OrganizeMe
I am impressed with the care and attention that clearly went into the making of the course materials. I have some web design background but haven't done anything with it in years. This course was a great refresher for me, while still being appropriate for a beginner. I will definitely watch some of the videos again as I begin customizing my own site!
Jessica Zausch
Author
Lauren does a fantastic job of explaining how to apply CSS when customizing websites… from a basic HTML site to a WordPress theme. After finishing the course I felt empowered to change the look of my site without the fear of "breaking" it.
Erika Steele
Author
This course has been a game changer for me. I'm in my 50s and was worried that I would not be able to handle setting up my site let alone editing the content. I was fearful of breaking something I couldn't fix etc but now I am excited about purchasing my theme and having fun with the styling. I felt all elements of the course were explained as simply as possible and the live demonstration of the difference the change in code made to the website was especially beneficial. I was hesitant at first to sign up for the course because with the currency conversion (I am in Australia) the course was up there in cost however for me it was definitely money well spent and I cannot recommend it high enough.
Anita Kelley
Publisher
Style Anything is a great course for the newbie who just wants to make a few changes here and there as well as the more experienced who might be looking to offer theme customization as a service. A very good investment.
Deborah Ruck
Happy Style Anything Student
This course is very well laid out both in print and visual! You will learn everything you need plus you'll overcome any fears you have of working with WordPress and themes! Now I design with enthusiasm and pleasure! Thanks Lauren!
Ann Gobel
Happy Style Anything Student
All I can say is holy cow…I FINALLY get it! Huge THANK YOU for producing this excellent course, perfectly paced, clear and understandable, especially for someone as clueless as me!
So, I'm now going to work on customizing my Refined design and a full relaunch….AND, I'm even considering a second blog…not only because I'm finding a better niche for myself and think I might like to separate it, but I found another color scheme I love. Yup…busting my buttons excited!
If you're unsure of how to customize, or just "scared" like me, I highly recommend this course when it comes back available!
Barbara Pandolfo
Happy Style Anything Student
The Style Anything course changed my whole process of setting up sites. I have learned so much from the course that I can implement on the sites I design. Learning to use the developer tool on my computer was a game changer! It has allowed me to recreate my sites in ways I had no idea I could do. Changing the fonts and colors to make the site my own feels so empowering. This course has more than paid for itself if nothing other than building my confidence in how to make changes on my sites.
Debi Thurow
Happy Style Anything Student
"Lauren does an amazing job, showing you how you can literally style, anything and everything on your website. If you are like me, who doesn't know anything at all, involving web design, it's well worth purchasing this course, and watching her go through all the steps, for that knowledge alone. She goes slowly and explains the process."
Happy Style Anything Student
The style anything course was exactly what I needed to get unstuck. I have a pretty good understanding now how can I adjust things, change fonts and so many other things that I always wondered about. Really enjoyed the course and the ability to implement as I was learning! Thank you!!!
Irina Hodorkovsky
Happy Style Anything Student
Taking Lauren's Style Anything course was one of the most empowering things I did in 2019. She demystified so many of the intricacies of CSS, giving me the skills to customize my site and make it just the way I want. In fact, the course was such a jumping off point for me that I am starting a web design business in 2020! If you are at all inclined to learn web styling, I cannot recommend Style Anything enough
Natalie Clausen
Happy Style Anything Student
Don't let it scare you
I know right about now you're thinking, there is no way I can do this! But let me tell you something…
If I can do it, so can you!
There is absolutely no reason at all to be afraid of the code that is used to style your website. This type of code is called CSS, and I'm going to teach you everything you need to know about it, and make it fun all at the same time!
Are these some of your fears?
Fear of breaking your site
Fear of losing your posts
Fear of not being techie enough
Fear of your mistakes costing you money
Fear of the white screen of death
Believe me, I've heard all of this! And I was you all those years ago when I was determined to learn it on my own! In this course I'm going to squash all these fears and share with you why they do not apply when it comes to styling your website!
You can do this
Will it take a little time to learn? Absolutely!
This course will take a couple of hours to complete, but at the end you'll feel completely empowered with new tools in your arsenal to take full control of your own website.
The goal is to save you time and money so that you can focus on building your business!
In Style Anything, you'll learn how to take our Refined Theme….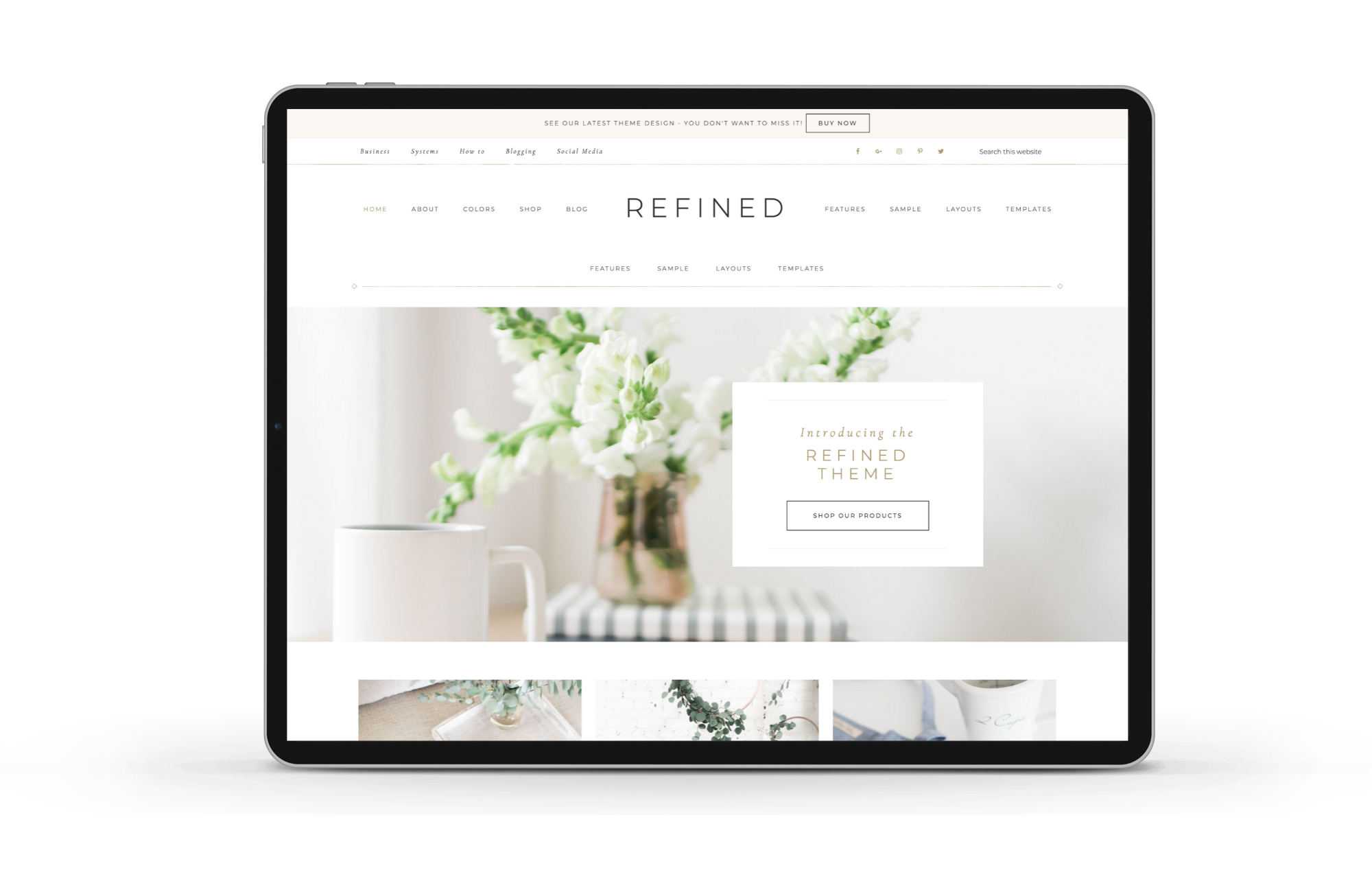 And turn it into this…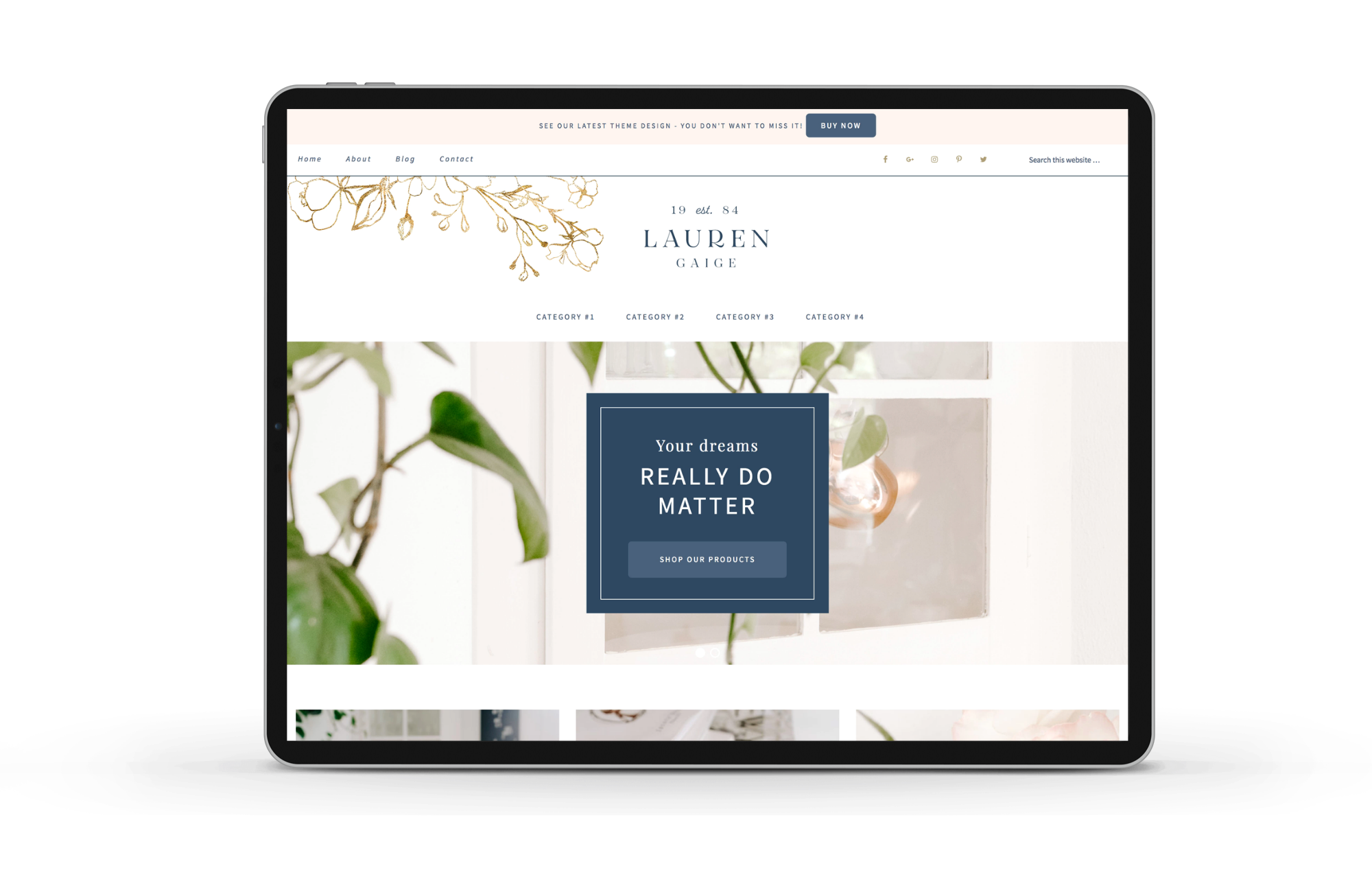 Are you ready to take the leap?
This will be a game changer for you.
I asked a group of people how much they spent last year on website edits for their site and overwhelmingly the answer to that was in the hundreds and sometimes thousands of dollars. Hiring out this kind of work is flat out expensive. I know because I have people just like you hire me to do these things all the time and I charge $150 an hour.
For the cost of a little than 2 hours of my time, you can have the skills that have taken me over 11 years to learn!
I say that's a NO BRAINER!
Is Style Anything right for me?
Have you found yourself in these positions?

You want to increase the font size of your navigation menu?
You want to add a background color on your post titles?
You want to add a border below the widget titles?
You want to get rid of that darn white box?
You want to change your fonts?
You want to just change that one thing gosh darn it?!?!?!
Then yes! Style Anything is the perfect solution to answer these questions and many more!
What's Included:
My number 1 secret that shows you how to try things out before publishing
My favorite tool to figure out exactly the code needed to make your change
Learn how to create a website from a blank screen to something beautiful
45 Minute real life example of modifying the Restored 316 Refined theme beyond recognition
How your website actually runs behind the scenes so you know how it all works together
Erasing your fear of editing your site by giving you the knowledge of how to fix mistakes and what actually happens when you do make a mistake
Access to an exclusive Facebook community… this resource is priceless!
Bonuses!
Free HTML website template that we create during trainin!
Provided code to the customizations we make to the Refined theme!
A CSS Cheatsheet to use as a guide. This guide alone is priceless and will be used a LOT!
A unique and gorgeous Branding Kit to use on your own website, along with code provided to customize it!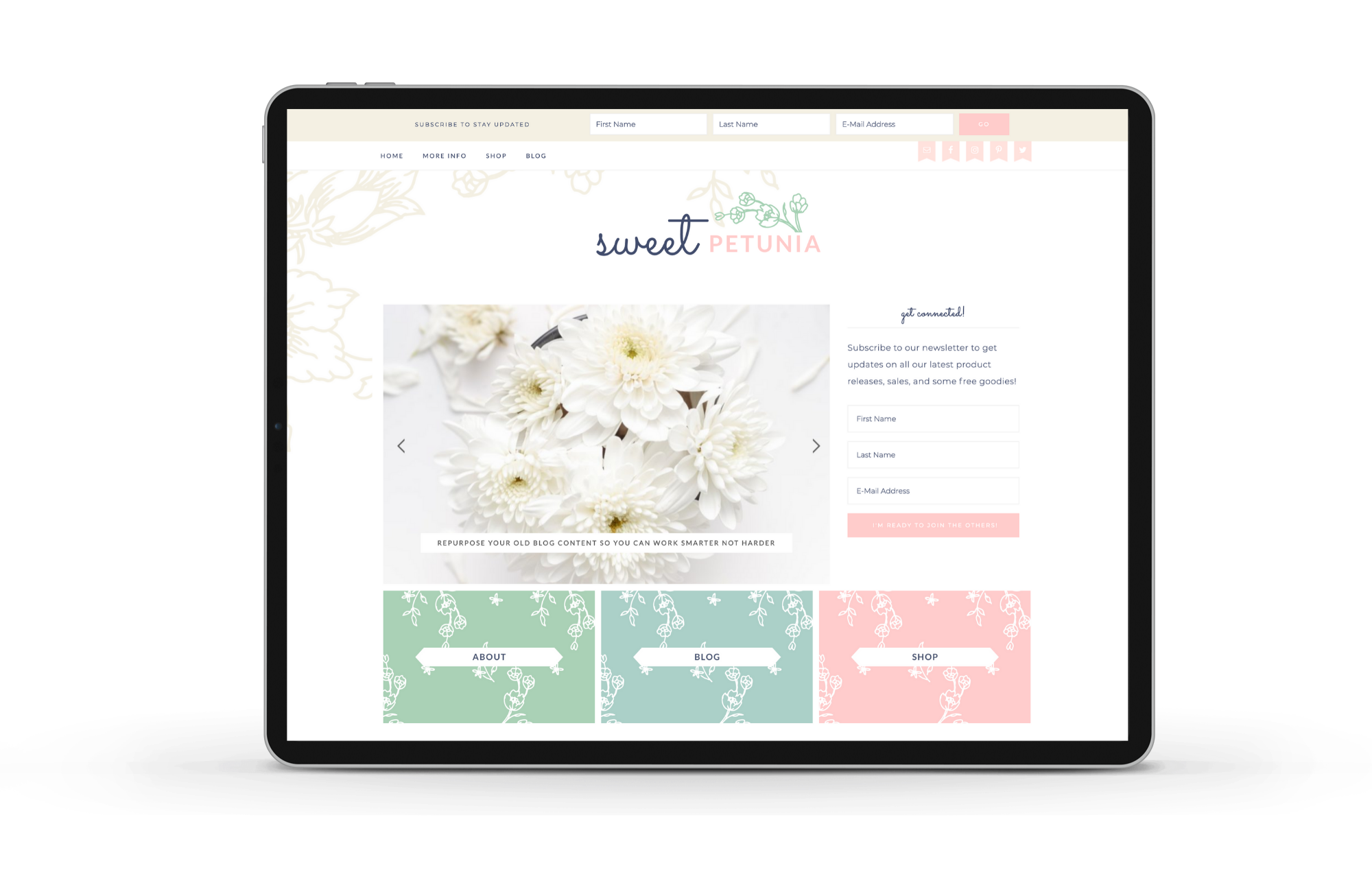 Frequently Asked Questions
When does the course start and finish?
It is a completely self-paced online course – you decide when you start and when you finish.
How long do I have access to the course?
After enrolling, you have unlimited access to this course for as long as you like – across any and all devices you own.
What if I am unhappy with the course?
In order to be eligible for a refund for Style Anything, you must have completed all lessons of the course within 30 days from your purchase date. Upon verification of the completion of the course, a refund will be issued if you find the course to be unsatisfactory. You can send your refund request here.
Do I have to have a WordPress Site?
Absolutely not! While I will be teaching using our themes, the principles learned here can be used for styling absolutely any website no matter the platform!
Here is more of what our students are saying…