Are you ready to take full control of your website and stop paying someone else for every little change?
Having a website can be a total blessing, but for many, a total headache all at the same time.
You spend so much of your time trying to figure out how to change simple things, or you spend a fortune paying someone else to do it for you.
Are you ready to change that frustration?
How do I know this?
Because I've been selling themes to tens of thousands of you for over a decade and these are by far the top questions we get asked mere hours after your theme purchase:
But you know what?
I've been in your shoes.. and there is a better way!
When I first started my business, I remember having to start a website for the very first time and to say I was overwhelmed would be an understatement. However, I didn't have the resources to continue paying someone over and over to make my website changes for me, so I had to learn it all myself. Having taken a website class in high school, I knew the basic principles but I was essentially learning it all on my own because I had no other choice.
Fast forward over a decade and I've now built an entire business around website design and every bit of it I taught myself. With the amazing community that has been built around my WordPress themes, I see a lot of the same type of questions!
Introducing
Style Anything
I'm here to empower you to take full style control of your website!
By the end of this course, you will literally know how to Style Anything!
Let's get down to business
Here is what we cover…
Module one
Understanding the basics and correcting your misconceptions
In order to begin learning how to style anything, you first will need to have an understanding of how your website works behind the scenes! I'll teach you exactly how your website works and what each things means. While learning all the inner workings of your website, I'll teach you what each things does so that we can get rid of that fear of breaking your website!
Module Two
Building a basic website with HTML
To learn how styling works for different elements, we need a basic understanding of HTML. In this module, I teach you how to write a very very simple website design from scratch and how we can style each element! This module starts putting all the pieces together!
Module Three
CSS Styling
In this module, I teach you all that you need to know about CSS styling! How to write it and what each and every thing means! Our printable CSS guide will serve as a guide for you as you begin making changes on your own website!
Module Four
Applying what we've learned to your website
In this module, we will take everything we've learned and begin applying it to an example site! I will show you how to take our Refined theme, and change it into something completely different!!
real people. Real stories.
Here is what our students have to say
Hey, beautiful…
I know how hard it is to build a beautiful online business with no previous knowledge of building a website! What does all this stuff mean? And how can I do it on my own without breaking something or pulling my hair out?
Don't let it scare you
I know right about now you're thinking, there is no way I can do this! But let me tell you something…
If I can do it, so can you!
There is absolutely no reason at all to be afraid of the code that is used to style your website. This type of code is called CSS, and I'm going to teach you everything you need to know about it, and make it fun all at the same time!
Are these some of your fears?
Fear of breaking your site
Fear of losing your posts
Fear of not being techie enough
Fear of your mistakes costing you money
Fear of the white screen of death
Believe me, I've heard all of this! And I was you all those years ago when I was determined to learn it on my own! In this course I'm going to squash all these fears and share with you why they do not apply when it comes to styling your website!
Will it take a little time to learn? Absolutely!
I promise you though…. You can do this!
This course will take a couple of hours to complete, but at the end you'll feel completely empowered with new tools in your arsenal to take full control of your own website.
The goal is to save you time and money so that you can focus on building your business!
Don't just take my word for it…
Here is what our students have to say
In Style Anything, you'll learn how to take our Refined Theme….
and completely customize it! I will show you every single step of the way!
Are you ready to take the leap?
This will be a game changer for you.
I asked a group of people how much they spent last year on website edits for their site and overwhelmingly the answer to that was in the hundreds and sometimes thousands of dollars. Hiring out this kind of work is flat out expensive. I know because I have people just like you hire me to do these things all the time and I charge $150 an hour.
For the cost of a little than 2 hours of my time, you can have the skills that have taken me over 11 years to learn!
I say that's a NO BRAINER!
Frequently Asked Questions
Bonuses!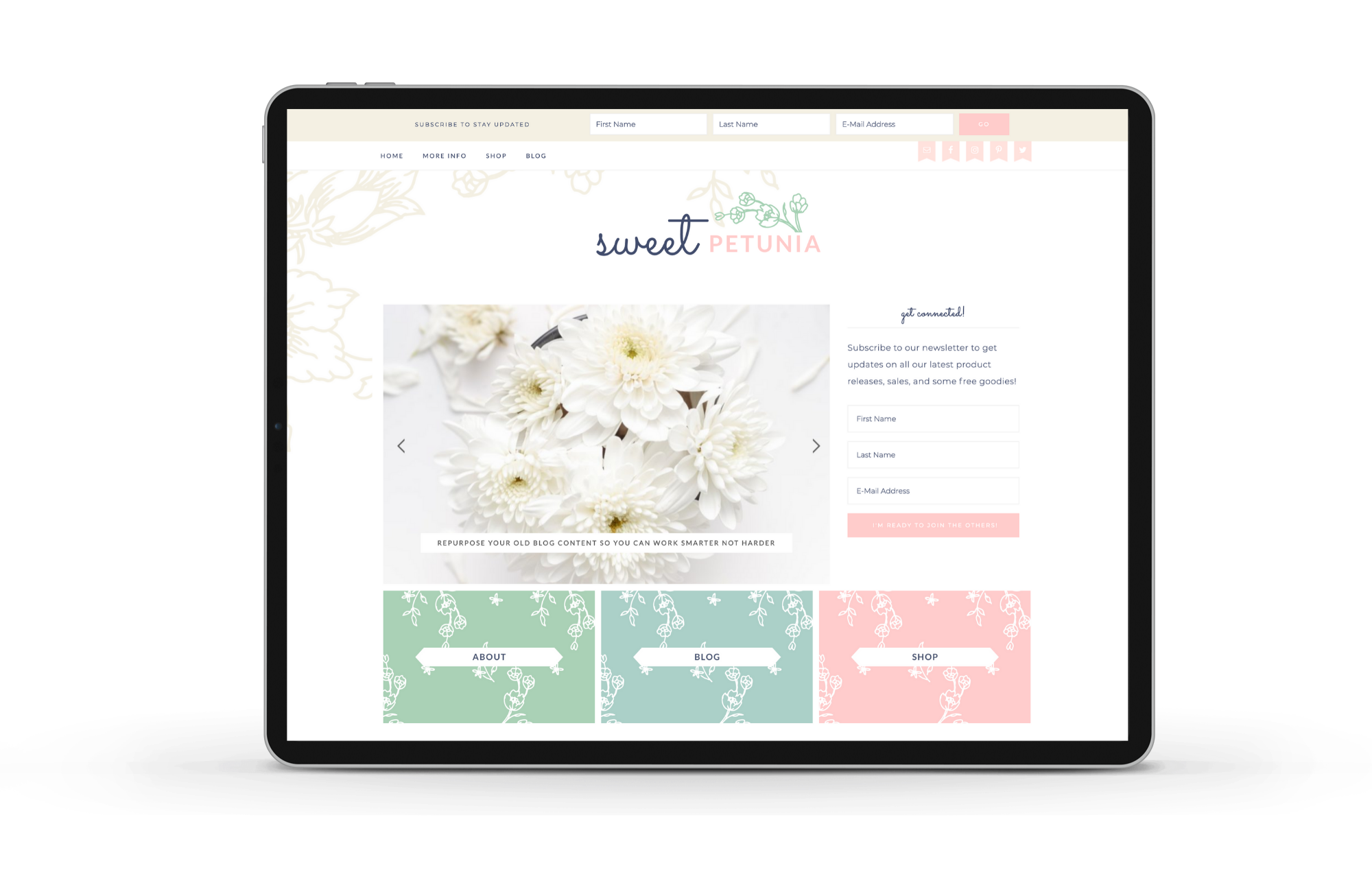 Is Style Anything right for me?
Have you found yourself in these positions?
You want to increase the font size of your navigation menu?
You want to add a background color on your post titles?
You want to add a border below the widget titles?
You want to get rid of that darn white box?
You want to change your fonts?
You want to just change that one thing gosh darn it?!?!?!
Then yes! Style Anything is the perfect solution to answer these questions and many more!